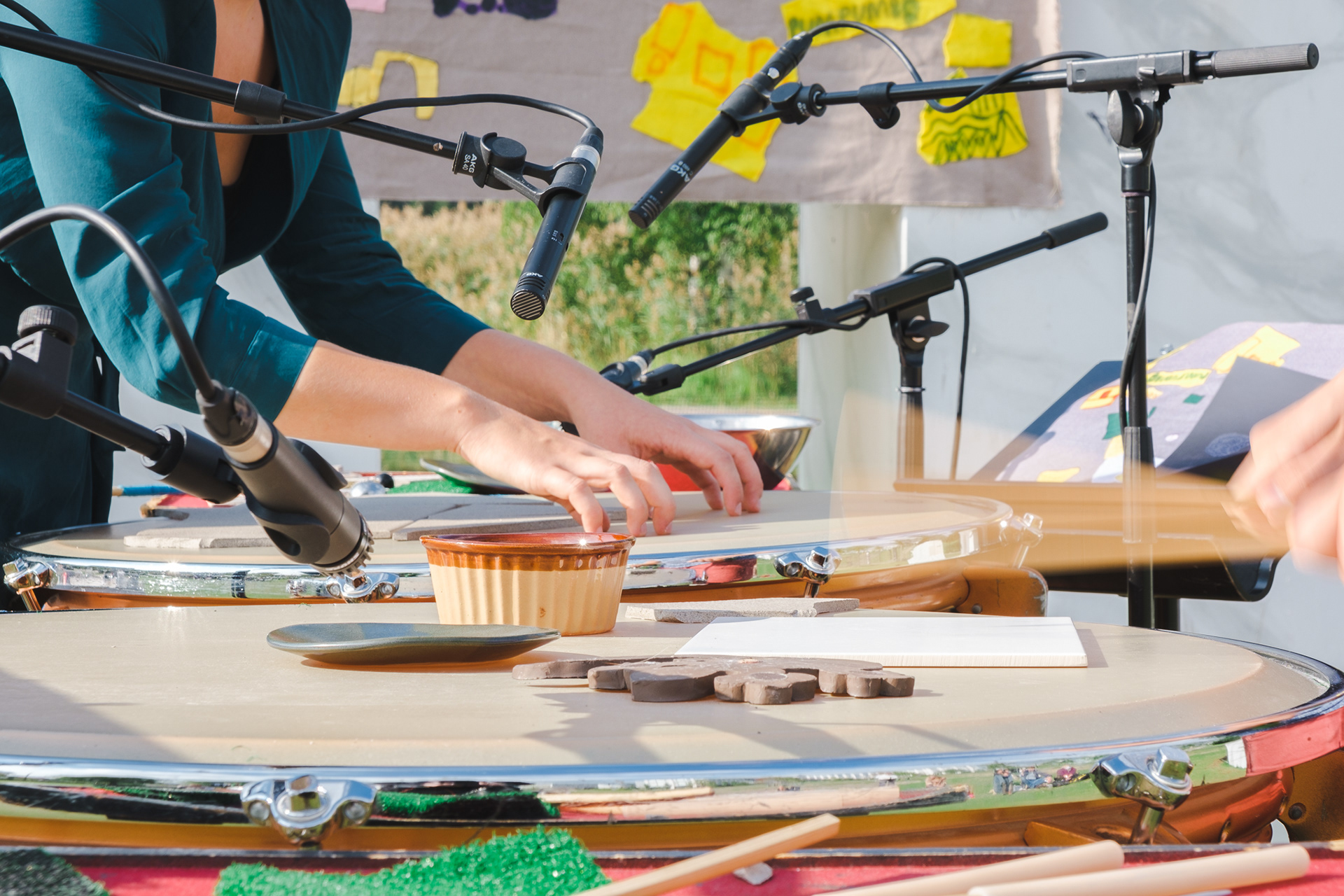 A three-part series of events at the

Muuri / The Wall

temporary sculpture on Töölö bay, making, performing and gathering 'scores' that are published to continue their lives through future interpretation.

Part 1 – Children's Workshop
Saturday 14.08.2021
Making sounds, drawings and a collective artwork/visual score around the

Muuri

sculpture.
Part 2 – Performance
Sunday 29.08.2021


Percussionists Kalle Hakosalo and Tiia Toivanen use the collective artwork as a visual score for a sound performance with Timpani drums and found objects including marbles, egg slicer, cups and tiles. Composer Stephen James Webb interprets the performance and transcribes it live into a musical score.
Part 3 – Party & Publication
Saturday 04.09.2021
The publication Parts

(for Muuri): scores

 containing the children's visual score and Webb's musical score is launched. The final score is performed by opera singer Rachel McIntosh.
Visitors receive a free copy.
Parts (for Muuri)
was conceived by artists James Prevett and Maarit Mustonen for the

Muuri

sculpture and the Helsinki Biennial. It is part of
Patsastellaan: Parties for Public Sculpture, 
an ongoing project by James Prevett where artists are invited to make a new public work for a public sculpture in Helsinki. Begun in 2017,

Patsastellaan: Parties for Public Sculpture

has produced 11 collaborative events around the extensive public sculpture collection of Helsinki.
Muuri

by visual artist Joni Kärkkäinen and dance artist Jukka Tarvainen was a both a sculpture and stage for a series of parkour dance performances, produced by Zodiak – Center for New Dance.

Photos of the events: Ilona Burtsoff / Zodiak
Parts (for Muuri): scores


2021
8 pages 
25x35,3 cm
Edition 200
Printing: ProAldus / Painotalo Plus Digital
Price 7 €